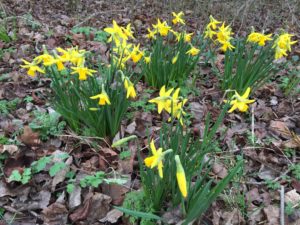 Spring is a great time of the year – the winter is fading away, the days becoming lighter for longer, the temperature warming up. It is also the signal for nature to start her new year of growth. The birds chirp more as they start to build their early nests. The trees start to wake up and suddenly the daffodils appear. We don't seem to notice as they are start to grow with their plain green stems – and then suddenly there is this splash of colour.
The vibrancy of the yellow a wonderful reminder that spring is here. It also seems that people are brighter too.
I was on a long journey and as usual I like to break my trip up a little, even if I have time pressures. It is a great way of preserving good health and be respectful of my back, perhaps if you have not yet done so check out my award winning book by mouse clicking here. It is a great way to cure back pain, it is also a great way to avoid back pain. More of that on another occasion.
I had stopped at a service station and after a bit of a stretch and walk decided to have a coffee before I set off again. I was waiting in the queue, where the usual checking of mobile phones seems to be an ever increasing 'time filler' (mine would be checked over coffee as I love to people watch). When I got to the head of the queue I greeted the delightful barista, placed my order and started a conversation mentioning the lovely daffodils that were to be seen outside. She cheerfully mentioned that she had lots in bloom in her garden. So I asked if she had a large garden and enjoyed looking after it. She enjoyed gardening although mentioned that much of the garden was paved to store 'the bikes' – the words were said with a beaming smile. Now this started a new thread to our conversation – 'A keen cyclist?' I asked. 'No', she said with an even bigger smile – 'I've got a Harley…..and I love it!'
Wow – that caught me out, and the conversation carried on for quiet a while. Fortunately I was the last in the queue so we had a really interesting conversation. I am not a biker but do admire a well-ridden motorbike and also one that is well looked after.
I am always amazed when we ask a few polite questions what can be revealed about someone and their hobbies. A few daffodils, a coffee, a wonderfully interesting, enthusiastic and engaging lady and I had a great smile on my face as I went off to enjoy my coffee, which had cooled a little during our conversation. I am not likely to become a biker, but if I was I am sure it would be a Harley and the model would have be highly influenced by this enthusiast.
Now that taught me a great lesson – don't miss the opportunity to share a really enjoyable conversation. Everyone has a story!
The coffee was great too.
My best wishes,
Peter