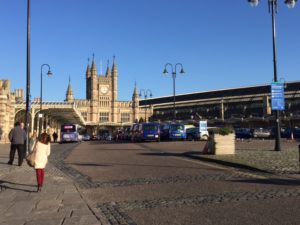 As I travel around, I frequently come across something that stirs my interest. I cannot remember ever having been through Bristol Temple Meads, as I arrived at the railway station. As I was on the way to an appointment I was more interested in heading out and finding where I was going. I was a little unclear in which direction I initially needed to go so asked a man who worked at the station – he was extremely helpful, and then off I set, not looking back. I had noticed the railway 'sheds' where the trains used to go, and parts of the warm yellow stoned building, when I arrived, that was all. It was when I returned to the station that I saw the amazing building that is in the picture.
On the journey to Bristol I did wonder what the meaning of 'meads' was, yet this was only a passing thought.
When I got home though, I decided to have a proper look to see what I could find out. What an interesting discovery! It is so insightful looking things up and then finding out so much more as our search heads off in new directions. Anyway, back to the station.
When it was opened in 1840 it became the western terminus for the railway from Paddington, London – a distance of over 116 miles (187.3km). It was the first railway designed by the engineer Brunel. The main entrance that is in the picture was added in the 1870s. So much history, and an important development for Bristol, as it was their first passenger station. Rail was important to Bristol, due to its' own busy dock, where many sailing ships brought cargo from afar, or loaded cargo for transporting to other parts of the world by sea.
Some interesting facts made all the more impactful with a little bit of research.
I will admit that this was a good reminder to keep my eyes open, embrace with curiosity what sometimes is part of our day, that goes unnoticed. So will you keep your minds eye open? I know I will work a little harder on this.
Oh, by the way 'meads' comes from an Old English variation of 'meadow'. In this case referring to water meadows alongside the River Avon, in the parish of Temple, which were undeveloped pastureland in the 1820's.
My good wishes,
Peter