I am regularly in London and usually busy with meetings and working with clients. Often I convince myself that I don't have the time to stop and look as I head for the next appointment; and yet I am never too busy to slow life down a little, if I choose. None of us are too busy unless there is a real emergency to deal with. Now I am not saying that people not busy – just that to ease back for only a few moments can pay massive dividends to the reality of our lives.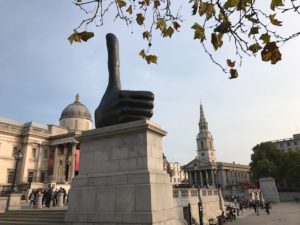 On this day, as a walked briskly, I was in a hurry to get a coffee, prepare myself and have a few final thoughts before I met with someone. The reality was I did have time if I chose to take note of what I was walking past – and on this occasion it was what is called The Fourth Plinth on Trafalgar Square. The coffee could wait, the preparation would happen too.
I have written about other exhibits on this plinth before, but I had not taken a picture of the current exhibit, even though it had been there for several months. So I stopped, looked, and took a few photographs.
Interestingly, whilst I have known that this plinth accommodates a piece of artwork for a period of time, before it is replaced with something new, I had not really taken note, or I had forgotten why the Forth Plinth did not have a permanent display like the other three.
The reason was that this plinth, designed by Sir Charles Barry, and built in 1841, was intended to have a statue of William IV on a horse, but due to insufficient funds remained empty. Over the next century and a half the fate of the plinth remained unresolved. Slightly embarrassing for me is the RSA (Royal Society for the encouragement of Arts, Manufacture and Commerce) decided, in 1998, to commission some contempory sculptures to be displayed on the plinth. It is slightly embarrassing as I am a Fellow of the RSA.
Anyway, back to the current exhibit. It is a bronze piece, with similar patina to the bronzes on the other three plinths, and is the work of the artist David Shrigley. As you can see from the picture, it is a hand in the 'thumbs up' gesture, meaning all is well (well at least that is what it means in Britain), and called "Really Good". Albeit the thumb length is exaggerated by being disproportionately long – this is meant to imply even better than really good.
I have seen other pictures taken from a different angle, which includes the alignment with Nelson's Column – I just liked this angle, which captures the dome of one of my favourite art galleries, The National, and also the spire of St Martin-in-the-Fields.
So as I reflect on the sculpture, Really Good, is all really good in my life?
And if not, what am I going to do about the things I can adjust or change?
And critically – when am I going to make those adjustments or changes?
And how about you – is all really good? Or what adjustments and changes should be on your agenda?
If you need a little help, or some executive coaching, do get in touch – I am sure we all have a Fourth Plinth that will accommodate some regular change.
My best wishes,
Peter